500 Tobacco Seeds Heirloom Starter Kit + Pots & Trays!
HEIRLOOM, (OPEN POLLINATED), QUALITY SEEDS!



IDEAL CENTRAL WASHINGTON GROWING ESTATES + FERTILE SOIL = HAPPY PLANTS = STRONG AND QUALITY SEEDS!



Quality seeds at wholesale prices since 2007!

All seed packet listings ship free!!

BEST GERMINATION RATE AND EASY TO GROW! CHECK OUT OUR FEEDBACK! Here is just a few:
1/29/11: "I find that the seeds are growing like crazy. Will buy again in future"
1/21/11: "100% Satisfied!!!"
1/20/11: "giggity giggity FAST shipping"
1/5/11: "Fast Shipping /Perfect condition /Just as described / Better than expected for $"
9/12/10: "very good seeds, thank you!"
5/6/10: "Great! Just as described ... seeds germinaed nicely."
8/3/09: "These people are on my saver list"
5/27/09: "i germinated about a dozen plants..."

...When disaster strikes and commodities are limited, self sufficiency may be the only option! These heirloom quality seeds will get you through tight times!

This Ultimate Tobacco Seed Kit includes everything you need to get started with a home grown Tobacco crop! (minus the soil):

1) 6 page, color, glossy instruction booklet. Easy to follow, detailed step by step and time stamped.
2) 8 ea. Seedling starter trays: 48 cells total, flats are broken into 8 trays with 6 cells each.
3) 20 ea. greenhouse/nursery pots, lightweight, durable and re-usable plastic.

4) 20 ea. white plastic seed labels, essential to have, easy to write on, large size for easy reading.
5) 500-600 Heirloom Tobacco (USA Grown) seeds in professionally sealed, dated and padded seed packets.

Tobacco Sowing season has arrived

!

!!
Time to sow seeds: March - June!!!
---
Item 1)
How to grow Tobacco" instruction booklet
!
Full color, glossy pages, pocket sized and easy to read! 6-pages of detailed step by step, time stamped instructions guide you through the growing stages of your new plant from seed to harvest!
---
Item 2) Seedling starter trays

Lightweight black plastic readily transmits ambient room temperatures to soil for superior seed germination. Flexible soil cells allow for easy seedling removal!

Perfect for use with our seed auctions and larger transplant pots! Economically priced for home gardeners and hobbyists!

Seed flats are broken down into 6-cell trays for shipping economy, there are 8 trays included in this auction.



drainage holes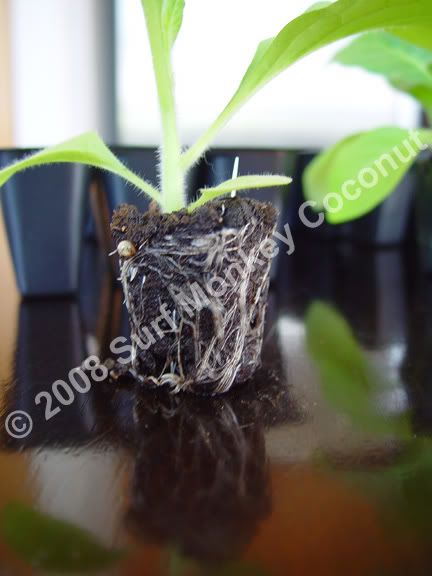 Plastic trays allow for easy out soil/root plugs for minimal shock transplanting!

---
Item 3) lightweight plastic greenhouse/nursery pots!

Pots conveniently stack into compact, lightweight and manageable columns. Pots are made of durable flexible plastic and with normal use can be re-used for many growing seasons!

Transplant your seedlings from starter trays to a larger growing container to maintain healthy root growth!

Affordability priced for home gardeners and hobbyists!

Each plastic pot is square measuring: 3-5/8" x 3-5/8" x 3-3/8"h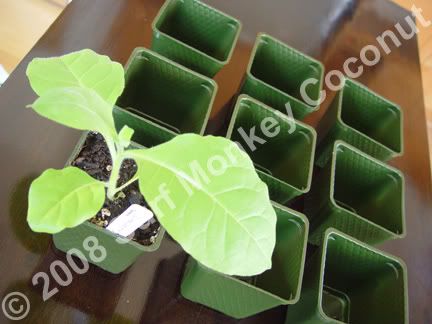 (Seedling not included)
:D

---
Item 4) 20 white plastic seed labels

Each label is 5" long x 5/8" wide.

20 easy write seed labels



(Seedling not included)

---
Item 5) 500

Nisqually grown Heirloom Tobacco seeds!



Fresh harvested for the 2011 growing season.

The Nisqually grown Tobacco seeds contained in this auction are easy, fast growing and can be grown in a variety of climate zones in the United States and are ideal for growing in pots! With just a few steps of planning and preparation, you will be on your way to having a patio crop in no time, or enhancing the atmosphere of your herf room with a real tobacco plant!

This particular strain of seed is acclimated for climate zone 5 however will do well in lower zones and all warmer zones! Ideal for growing in 5 gallon pots where space is limited; may also be planted in the ground.

The mother plant has been grown in a healthy and nutrient rich (registered organic) soil for growing organic agriculture.


Annual, 36"-60" inches tall, base leaves, approx 24" long!

Choose one of the following types: Havana, Virginia or Connecticut

Surf Monkey Coconut's tobacco flavor profiles:
Havana tobacco is a Cuban origin seed particularly good as a cigar wrapper for its long leaves, smooth appearances and flavor once cured.

Virginia tobacco is commonly used as a cigarette tobacco, or if rolling cigars, it is a perfect companion to our Havana tobacco:
A recommended blend for home cigar growers is a 30% Havana, 70% Virginia w/ a Havana wrapper.

Connecticut tobacco is a wonderful, silky, wrapper leaf that lightens a cigar in both color and flavor. Use the above filler blend with a Connecticut wrapper for a milder tasting cigar.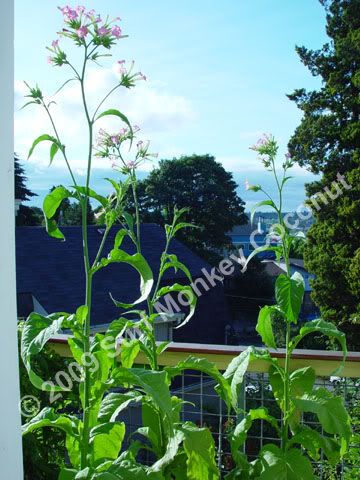 Virgina Tobacco display plants in 5 gallon pot on an urban balcony!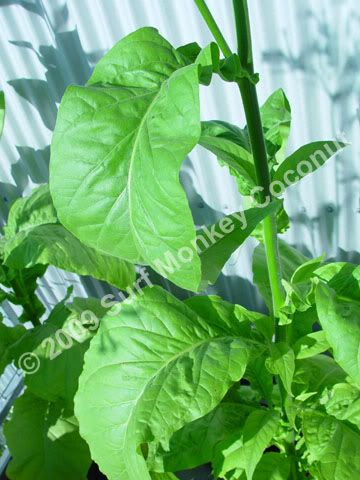 Long, slender and slightly curled leaves of the Virginia tobacco plant.
Harvested leaves air curing.
Air cured leaves.
Get a jump start on the growing season!

**Orders placed by 4:00pm PST will be mailed next day via USPS first class mail!**
Must be 18 years old to purchase this item: By purchasing via Paypal you are verifying that you meet their minimum age requirement, (of 18 years), for account ownership.